ELECTRONIC PRESS KIT: Mike Freedman
Mike Freedman is a professional guitarist, composer and instructor, who has been active in the music scene for over 30 years.  Based out of Toronto, Canada, Mike studied classical guitar intensively in his teens, but then developed a love of jazz and attended Berklee College of Music in Boston on a scholarship, graduating Cum Laude in 1990 with a degree in film scoring.  Over the last three decades Mike has toured, co-written  and recorded with many jazz artists, as well as released his own instrumental and singer-songwriter CD's.  
   Mike's guitar playing and composing has been described and lyrical and poetic, influenced by many great players and composers that he has admired over the years. Remnants of some of the artists and players who inspired him can be heard in his playing and writing,  including Joe Pass, Wes Montgomery as well as more modern players like Pat Metheny and Mike Stern.  Mike  has forged his own style and sound by combining these influences in his playing, creating his own unique voice within the jazz idiom.
Over the last several years Mike  found a niche as a co-writer and supportive guitarist for local jazz singers.  Mike has performed and co-written with artists such as Tia Brazda, Barbara Lica, Steven Taetz and The Willows.  Mike's co-writing and playing with Tia Brazda has helped her reach number One on the jazz itunes charts with each of her three CD's.  Mike has also toured the US and Europe playing hundreds of shows for small and large venues as Tia's mainstay guitar player. 
Mike's unique compositional style coupled with his world class guitar playing, has been extremely well received thus far as the album has received considerable airplay on jazz radio as well as receiving many positive reviews by jazz critics around the world.
The CD: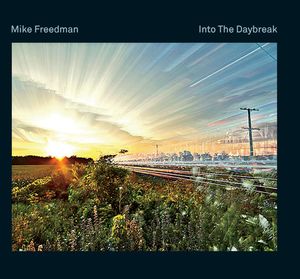 Into The Daybreak is Mike Freedman's debut album as a jazz instrumentalist.
Inspired by 30 years of performing and writing in the Toronto music scene, as well as touring extensively in the US and Europe with other artists, Mike took to the studio to record some of his original songs and channel his creative energies. 
The CD  features 9 of Mike's tunes which blend his love of many different styles of music, ranging from jazz, latin, to blues and ambient music.  These 9 contrasting and colourful  tunes  glimmer with inspired performances and vibrancy.  The thread that runs through these contrasting tunes is the strong melodic content.  The tunes have a depth and feel that is both natural and familiar but also unique and memorable. 
Using a traditional jazz quartet lineup of piano (Jeremy Ledbetter), drums (Max Senitt), bass (Kobi Hass) and Mike on guitar, Mike and his band recorded the  bed tracks over two days, live off the floor at the world class Canterbury Studios in Toronto.  By recording live off the floor, the band was able to keep the performances interactive and inspired.  Additional instrumentation of Saxophone (Chris Gale), trumpet (Alexis Baros) and melodica (Jeremy Ledbetter) helped to add depth to the tunes and solos. 
With the assistance of Jeremy Darby's masterful mixing and recording capabilities, Mike was able to capture a clear yet natural snapshot of these inspired tunes, filled with memorable melodies, beautiful solos, and heartfelt playing.  Into The Daybreak is a very listenable CD, with a radio friendly sound, stellar performances and a polished production.  Mike manages to walk the balance between accessibility and originality with this gem of an album, which shines brightly into the year 2021
The CD is currently in rotation on jazz stations across Canada and the U.S.  The CD reached #1 on the CFUV charts and thus far has reached #159 on the US Jazz Week charts.  Into The Daybreak has also received airplay locally on CBC, Jazzcast as well as Jazz.FM.  The album has also received many positive reviews by jazz critics around the world:
Quotes from recent reviews:
"Freedman's playing is thoroughly impressive on Into the Daybreak"
Kingston Whig Standard- David Reed
"This album features nine of Freedman's original compositions and each one is a sparkling gem"  
Musical Memoirs- Dee Dee McNeil 
"..flawless attention to detail and top notch execution"
Take Effect
"Canadian guitarist Mike Freedman delivers clean, concise, clear and classy guitar work"
 Jazz Weekly- George W. Harris
"Nine diverse tracks are performed with verve and power"
Wulf Muller
The Music (listen to tracks below)
0:00/4:31

0:00/6:01

0:00/5:10

0:00/4:51

0:00/5:15

0:00/4:23

0:00/5:02

0:00/6:16

0:00/4:21
The Musicians:
 The Mike Freedman Jazz Group is a dynamic all original project blending Mike's love of jazz with other world musical influences.   Mike has an eclectic musical background, having played Beatles music as well as studying classical guitar but then branching out to jazz, blues and music styles from around the world.   The current band line up includes:  Max Senitt (drums), Kobi Haas (bass),  Jeremy Ledbetter (piano) as well as special guests; Chris Gale (sax) and Alexis Baro (trumpet)
Jeremy Ledbetter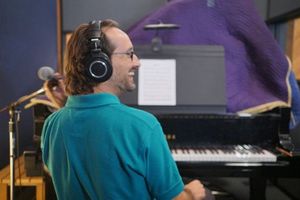 Originally trained as a classical pianist, Jeremy studied jazz performance  in Toronto before embarking on over a decade of world travel that saw him work with some of the most prominent recording artists in Trinidad, Cuba, Brazil, and Venezuela. Upon his return to Canada, Jeremy formed the Caribbean jazz ensemble CaneFire to play the original music inspired by his travels. CaneFire has quickly risen to international recognition on the strength of two albums – "Kaiso Blue" (2005) and "Pandemonium" (2010), and their performances at jazz festivals the world over.  Ledbetter features prominently in Canada's jazz and world music scenes, performing regularly with Alexis Baro, Eliana Cuevas, CaneFire, and Mark Kelso's Jazz Exiles, among others.
Max Senitt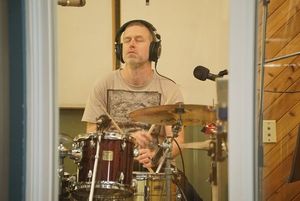 Toronto based drummer/percussionist, Max Senitt, has been creating rhythms for longer than he can remember. With more than 30 years of drumming under his belt, he has racked up an impressive amount of invaluable musical experience, performing at clubs, concert halls and prestigious festivals around the world. Highly in demand on the local and international scene, he maintains a busy freelance career playing a wide range of musical styles with many highly acclaimed Juno and Grammy Award winning artists, including Alex Cuba, Josh Groban, Hilario Duran, Carol Welsman, Eliana Cuevas, and Elizabeth Shepherd
Kobi Hass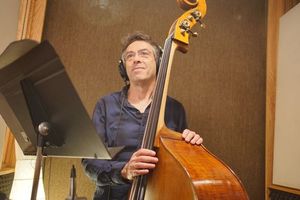 Israeli-Canadian bass player, arranger and music educator, Kobi Hass is known internationally as an electric and upright bass player and for his musical work. In 2010 he relocated with his family from Tel-Aviv to Toronto where he now resides and performs. As a child Kobi played the piano and the cello. Not long after he picked up the bass Kobi started performing as professional electric and upright bass player in various bands and groups, playing a wide range of music styles from jazz through folk music to rock. Venues included Israel, USA, England, Germany, Austria, France, and Soviet Union. Kobi performed as a double bass player in major musical and theatrical shows, as well as in jazz concerts and festivals.  Kobi holds a Master Degree in choir conducting from Tel Aviv University and a Diploma in Professional Music from Berklee College Of Music.